Custom Classroom Security Blinds
Instantly Block the view into a classroom with the Classroom Security Blind
For the Safety of Educators and Students Everywhere - A School Safety Solution
---
Classroom Security Blinds release with one swift motion to create a sense of protection from the outside world. Devised by the mother of an elementary school educator, these blackout blinds attach to the ledge over a classroom door or window with removable hook-and-loop fasteners that leave no damage. A teacher needs only one hand to pull loose the ribbon that holds the blinds in place. As the blinds descend over the window with the help of small steel weights, a teacher can use his or her free hand to switch off lights or give further direction to students. Classroom Security Blinds are unobtrusive, choice of flame retardant or non-flame retardant, and custom-made. All sizes are custom made to your specifications.
With the Classroom Security Blinds, teachers no longer need to invent their own methods for preventing unwanted visual access to their classrooms. They no longer need to worry about wasting time with makeshift supplies that may or may not work in a critical moment. They no longer need to spend thousands of dollars on blinds that boast high-tech features but are better suited for the home. Classroom Security Blinds are an affordable classroom tool designed exclusively to reduce the vulnerability of teachers and their students during a crisis.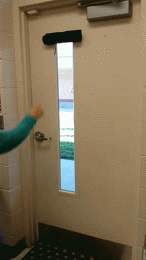 Ordering Information
All blinds are custom made specific to your specific size requirements.
Pricing Examples of Several Popular Blind Sizes

| | | |
| --- | --- | --- |
| Size | With Flame Retardant | Without Flame Retardant |
| 8"x26" | $5.40 | $3.53 |
| 8"x36" | $7.48 | $4.89 |
| 10"x42" | $10.92 | $7.14 |
| 16"x30" | $12.48 | $8.16 |
| 23'x37" | $22.12 | $14.46 |
We offer the option of either with or without Flame Retardant
Fabric is made and assembled in USA from 100% recycled materials.
---